Services.
FREE Professional Cessation Counseling
The Texas Department of State Health Services provides the Texas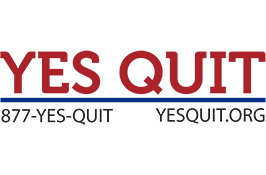 Quitline. The Quitline combines an online and phone counseling program with an array of tools and services to help your patients live tobacco free. Counseling services are available in over 100 languages. Professional cessation counselors receive 200 hours of training to personalize quit advice and to work with patients based on lifstyle and other health concerns. Nicotine Replacement Therapy (NRT) may also be available for patients 18 and over when referred by a health provider using the tools below.
For help connecting patients to the Texas Quitline services email uttobacco@utexas.edu.
---
Connect.
with our referral tools
The first step is referring patients to the Quitline when they are ready to quit within 30 days. We propose using these tools as a part of your clinical workflow, to offer tobacco cessation support after you have advised them to quit. Using the eTobacco Protocol or the mobile app to fill out the electronic referral form will automatically send a secure referral message to the Quitline. Whether you use the paper fax or the eelectronic methods, the Quitline will then contact the patient to start the program.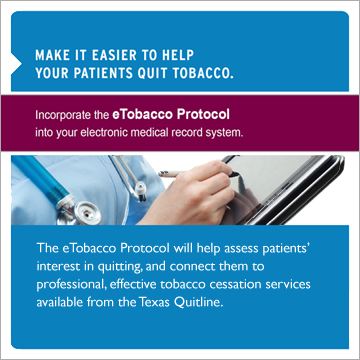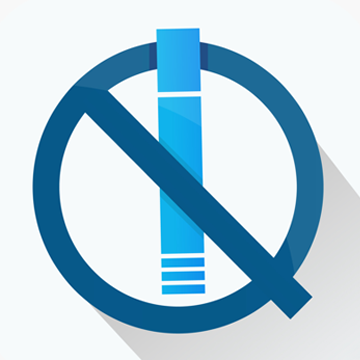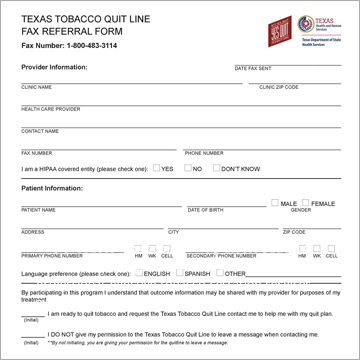 eTobacco Protocol
The eTobacco Protocol is a cessation referral process that is integrated into a healthcare system's EMR to electronically refer patients to the Quitline. A Quitline counselor will then call the patient within 48 hours.
Click here or email uttobacco@utexas.edu to learn more.
Texas Quitline App
This simple mobile app is designed to help health advocates and providers to educate the public on the dangers of tobacco and quickly refer them to the Quitline. The app provides easy to read information about how tobacco impacts children and people with different chronic diseases. Download the App for Android and Apple devices.
Quitline Fax Form
The paper fax method is the most basic referral process. The fax form is a resource to help community based organizations, health advocates and healthcare providers refer patients or clients to the Quitline. It provides easy, low tech access to tobacco cessation support for those without an EMR connection or mobile app. Click here to download the standard fax form or the Housing Authority fax form.  
Intervene.
Ask, Advise, Refer
Our clinical training resource focus on the Ask-Advise-Refer approach, which can be used by healthcare staff to successfully guide patients to the Quitline. Patients may be more motivated to quit knowing that free support is available.  These resources help walk providers through the movitational interviewing process to help patients in diferent stages of behavior change. 
Helping Our Patients Quit Using Tobacco
This video shows the role that the clinical care team can play in lowering tobacco use. It includes facts about tobacco use in the US. It shows scenarios between key players including the medical assistant, provider, and patient that will help you learn about the importance of asking, advising, and referring patients, and tips on how to use the main sections of an electronic tobacco intervention template.
Ayudemos a nuestros pacientes a dejar de usar tabaco
Este video le dará información breve sobre el papel que desempeña el equipo de atención médica en reducir el uso de tabaco. El video incluye hechos sobre el uso de tabaco en los estados unidos, escenarios entre algunos de los protagonistas clave, incluyendo el asistente médico, los proveedores médicos y los pacientes. El video le ayudará a aprender la importancia de preguntar a los pacientes, asesorarlos y referirlos, y le dará instrucciones para usar las secciones principales de la plantilla de intervención relacionada con el tabaco.
Helping our Patient Quit Using Tobacco – A Nurse's Guide
This video is designed to train nursing staff to use both the 5A's and the brief Ask, Advise, Refer framework within the clinical enviroment. It shows the eTobacco Protocol templates used by some healthcare systems and walks the provider through the electronic referral process. The video also provides information on the Texas Quitline to assure that the patient will respond to the proactive outreach from the quitline staff.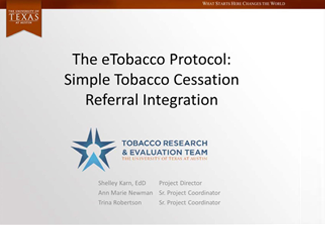 This provider tip sheet for the eTobacco Protocol outlines the ASK, ADVISE, REFER approach and covers the 5 R'S of tobacco cessation